The journey of adult formation within the Orthodox Church is a profound and enriching experience, particularly for those seeking to embrace the faith through conversion. It offers a path of spiritual growth, deep understanding, and connection to the rich traditions of the faith. For those drawn to the beauty of Orthodox Christianity, this journey is a transformative exploration that leads to a deeper relationship with God and a stronger sense of community.

At Saints Constantine and Helen Greek Orthodox Cathedral of Brooklyn, this journey is made even more special through a dedicated approach to adult formation. The Cathedral offers a structured and supportive environment that caters to individuals looking to convert to the Orthodox Christian faith. Through guided study sessions and personalized one-on-one meetings, led by Father Evagoras and other parish leaders, newcomers are gently led through the theological foundations, liturgical practices, and spiritual teachings of Orthodoxy. This hands-on approach allows for open dialogue, addressing questions, and fostering a strong sense of belonging.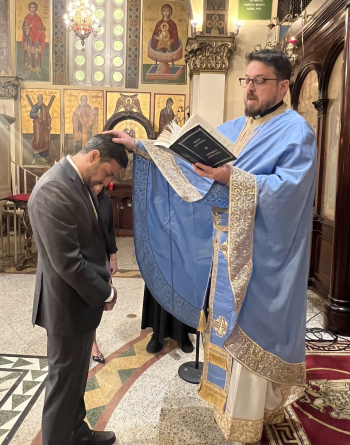 The beauty of adult formation lies in its holistic nature. It's not just about learning doctrines or rituals, but also about cultivating a personal connection with God and embracing the Orthodox way of life. Through study groups, liturgical participation, and interactions with the parish community, newcomers gradually immerse themselves in the beauty of Orthodox spirituality, history, and worship. The guidance provided by Father Evagoras and the parish leaders ensures that each individual's unique journey is respected and supported, fostering a genuine sense of camaraderie and growth.

In the bustling heart of Brooklyn, Saints Constantine and Helen Greek Orthodox Cathedral stands as a beacon of faith and learning. The cathedral's commitment to adult formation empowers those seeking conversion to Orthodox Christianity to embark on a transformative journey. Through a harmonious blend of structured study, personalized guidance, and active engagement with the parish community, newcomers are not only introduced to the faith but also welcomed into a spiritual family that nurtures their growth and understanding. This process not only shapes their understanding of Orthodoxy but also lays the foundation for a lifelong relationship with God and a vibrant, supportive community.
Saturday, December 09, 2023
9:00 am - 11:00 am
Sunday, December 10, 2023
10:00 am - 12:00 pm
Sunday, December 10, 2023
11:00 am - 3:00 pm